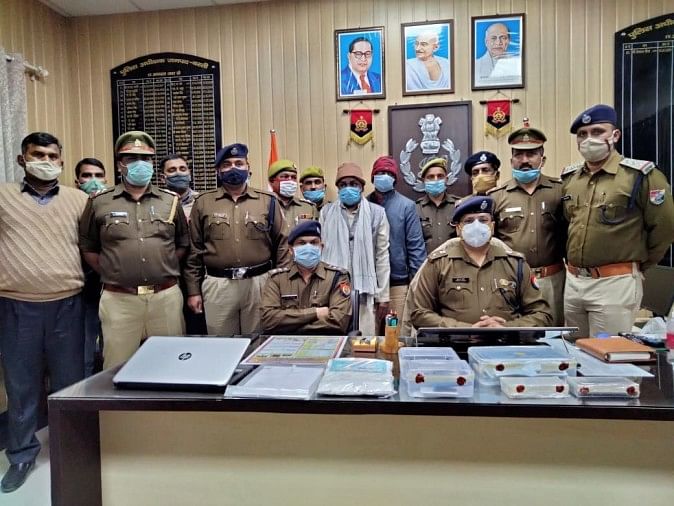 Two members of IRCTC gang selling fake software arrested
Among the arrested accused, father of gang leader Hamid Ashraf and a man of Bhadohi
Harraiya police caught with the help of RPF, 12 crore worth of land
Documents and bonds worth 90 lakhs recovered
Samvad News Agency
colony. Two members of the Hamid gang of IRCTC's gang selling fake software to make e-tickets have been arrested by a joint team of police, RPF and CBI. Both were arrested on Tuesday morning near Moradipur intersection of Harraiya. One of it is the father of Hamid Ashraf and the other is a resident of Bhadohi district.
SP Hemraj Meena informed about the arrest at the press conference held in the police office. He said that three members of the gang were arrested on 8 December 2019. Two other people were arrested on the basis of their questioning. Two new names came up in his interrogation. One of them is Jamirul Hasan alias Lalla, the father of King Hamid Ashraf, Ramvapur Kaptanganj resident and the other is Yogendra Vishwakarma, a resident of Surianv police station area of ​​Guruga Bhadohi district. Both were caught on Tuesday morning. Yogendra sold the software and handed over cash to Hamid's father Lalla. Lalla used to buy land, houses etc. with the money. He has bought property in the name of many relatives. There have also been reports of flats in Mumbai and Dubai.